Services
Daily And Monthly Mobile Crane Rental Service
Our company has crane models to support services covering all types of work, including hydraulic all-terrain cranes, rough terrain cranes, and truck cranes with advanced and modern technology with good maintenance systems. We are one of the few companies able to provide a team of staff and equipment for lifting projects with capacity of more than 500 tonnes. Our services include beyond normal lifting, we provide project planning, lifting plans, and a full safety team for our clients.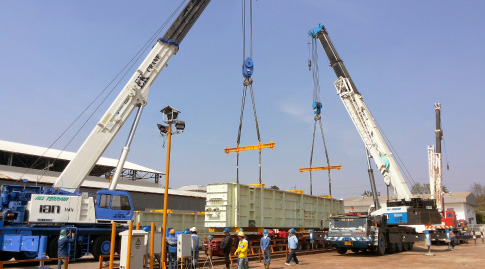 Mobile Crane Service from Ek Crane Logistics
EK Crane offers crane rental services ranging from small 10 ton to large 550 ton. We have the largest number of cranes in Thailand. This makes us the leading crane rental company in and around Southeast Asia. With more than 30 years of experience, our team has expertise in all types of heavy lifting. Whether it's relocation, installation, or removal work.

Each size of crane has different working abilities. Smaller cranes may be used to lift small jobs in tight spaces. A medium-sized crane, such as a 25 ton crane, may be working in a site where frequent handling of work equipment is required and frequent movement is required. Or a large crane that is operated to lift a special job that requires precision in the installation of the workpiece.
Industrial Services
EK Crane Logistics Co., Ltd. is a hydraulic mobile crane rental company with the equipment and personnel to meet all your lifting needs. We are Thailand's largest mobile crane rental company and have been a market leader in the industry for over 30 years.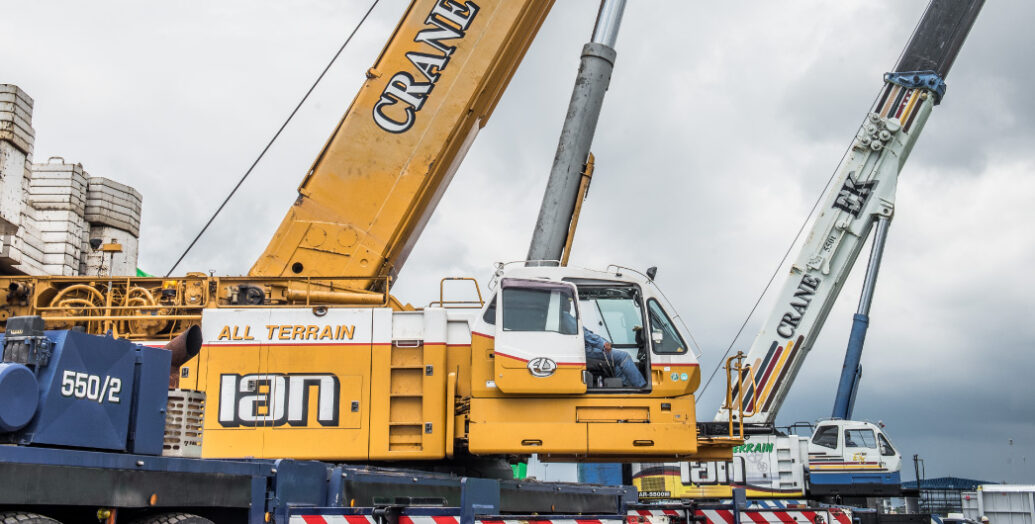 300 Ton All Terrain Crane to 550 Ton All Terrain Crane
With many large capacity cranes in our fleet, such as 550 ton crane or 360 ton crane, it is very easy for us to cover all types of heavy lifting in every kind of job site. If the height is very high, we have fixed boom and luffing jib attachments to do the lifting. Also, if the space is wide open, we can have a full main boom operator on the objects. All our large capacity cranes have a very strong superstructure to support the safety standards our clients need.
Our projects for these cranes span the normal civil work around Thailand to very difficult projects such as powerplant maintenance and shutdowns. With many axles, the cranes can travel anywhere around Thailand as well as abroad to surrounding countries.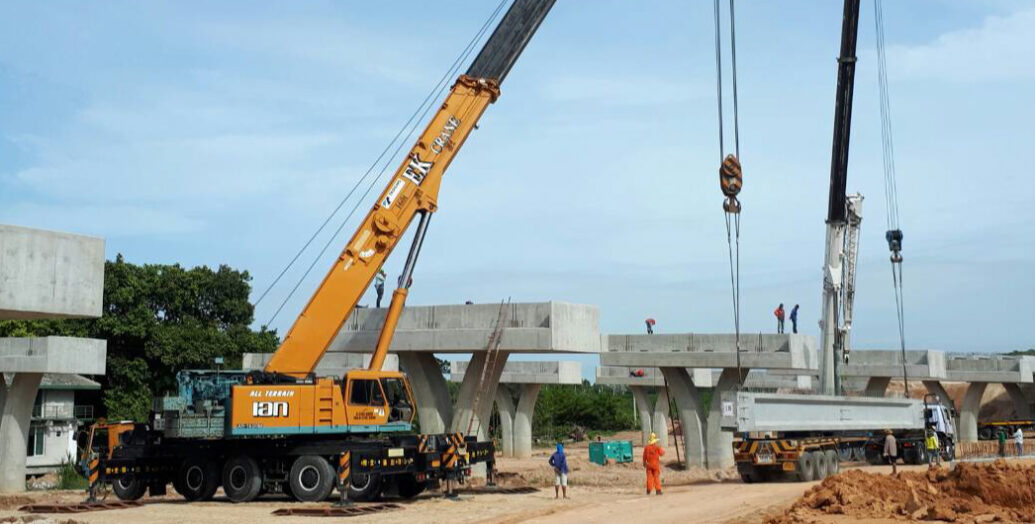 100 Ton All Terrain Crane to 220 Ton All Terrain Crane
This 100 ton to 220 ton range of all terrain cranes is very popular with highway projects, mass transit projects, and bridge installation projects. The cranes are versatile and easy to operate, with optional equipment for special projects. With the boom max hoist height at 68 meters, the operators can lift and operate with ease for plant installation and maintenance.
The design of the machines has a high safety factor and uses modern boom technology to create lightweight machines that can travel anywhere on road and off road.
50 Ton Rough Terrain Crane to 70 Ton Rough Terrain Crane
These types of smaller cranes are good for projects where small objects are moved frequently around the job sites. Our customers, such as hotel construction sites, oil refineries, and airport projects, use this very mobile capacity crane type. They are good for traveling in the city as well as moving around in smaller or limited areas. The cranes have modern safety systems and technology for operators to use while doing lifting operations. The boom design is light, the outriggers are strong and quick to set up, and the AML system is visually easy to use.
We have over 100 units for this rough terrain type of crane. We are able to provide our cranes to any job sites by mobilizing them over the low bed trailers to avoid any on-road issues.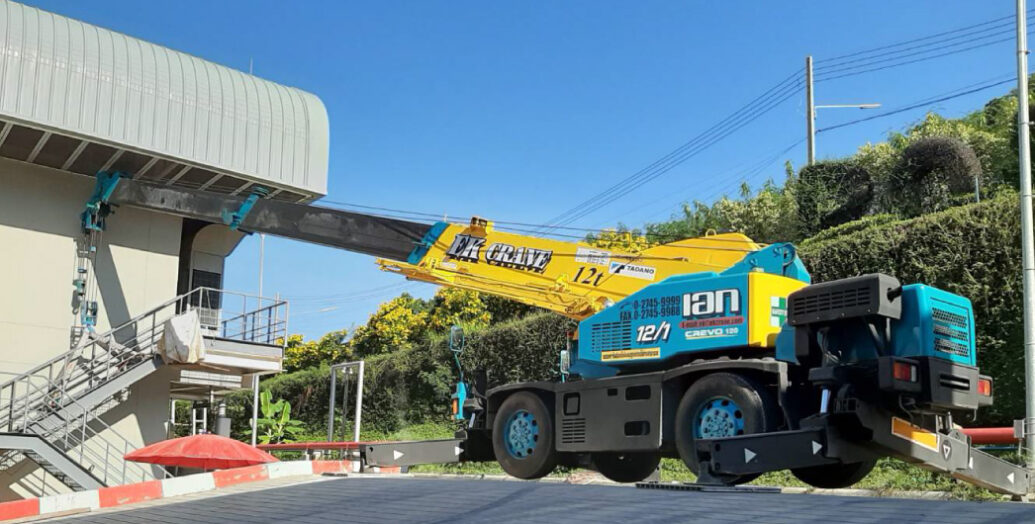 10 Ton Rough Terrain Crane to 25 Ton Rough Terrain Crane
Our small rough terrain cranes feature full hydraulic booms that can be erected under load, as well as movability around the job sites made possible by their quick and easy operation. With its safety system, rest assured that the machines will perform with the highest safety factor. These cranes are suitable for very limited areas as well as indoor facilities with low ceilings.
Projects such as solar roof installation, machinery installation, and construction object transportation are suitable for a 10 ton or a 25 ton crane.
Get in touch
Want to know about our cranes? Let us call you back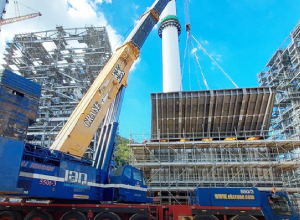 All Terrain Crane
Crane 550 Ton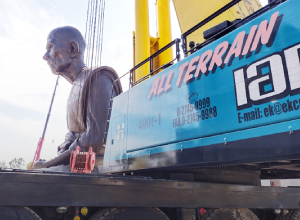 All Terrain Crane
Crane 400 Ton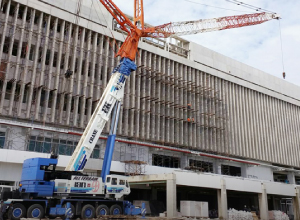 All Terrain Crane
Crane 360 Ton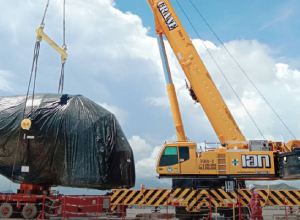 All Terrain Crane
Crane 300 Ton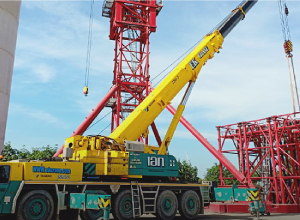 All Terrain Crane
Crane 220 Ton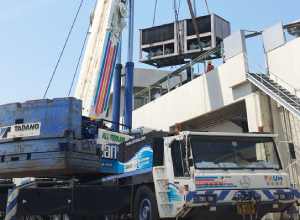 All Terrain Crane
Crane 200 Ton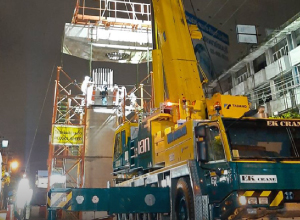 All Terrain Crane
Crane 180 Ton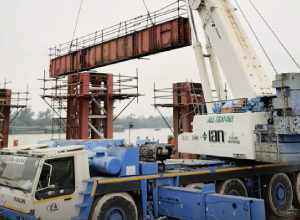 All Terrain Crane
Crane 160 Ton
All Terrain Crane
Crane 150 Ton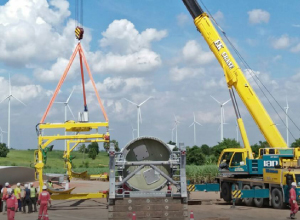 All Terrain Crane
Crane 130 Ton
All Terrain Crane
Crane 120 Ton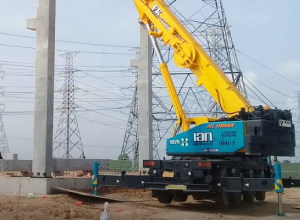 All Terrain Crane
Crane 100 Ton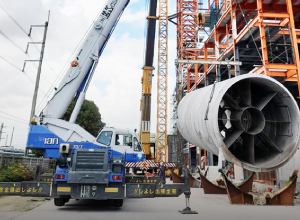 Rough Terrain Crane
Crane 70 Ton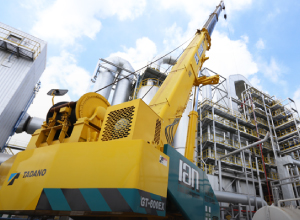 Rough Terrain Crane
Crane 60 Ton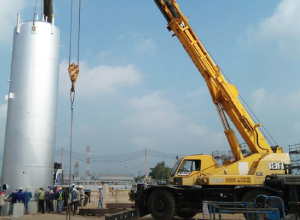 Rough Terrain Crane
Crane 50 Ton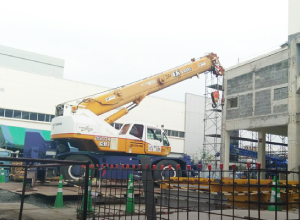 Rough Terrain Crane
Crane 25 Ton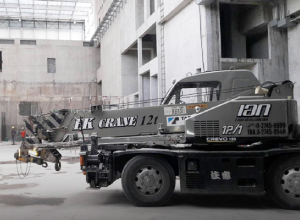 Rough Terrain Crane
Crane 12 Ton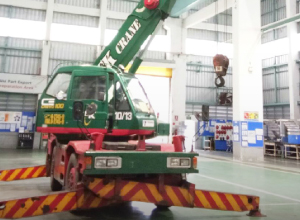 Rough Terrain Crane
Crane 10 Ton
A mission to provide the best lifting solution to our clients
Our team will provide a clear work process throughout our organization. Starting from accepting the inquiry about lifting project from our customers til the end when our team ask for feedback and reviews. Each lifting project is a delicate job and requires clear working procedure to ensure the high safety standard at every angle of the work. We will deploy teams of highly experienced and trained professional to each job sites in case any problems arise and they will help solve it in a timely manner.
Site survey and lifting planning

Before any lifting starts, we will send our specialists to do a site survey to determine the types of job sites and terrain the project will operate in. Then we will create lifting plans for the job.
Equipment preparation

Once the client's confirmation is received, the team will prepare the machine as well as the equipment needed for each project. All projects and job sites are not the same, so different set-ups will be prepared.
Mobilization and machine set up

We need to transport the cranes to the job site by loading them on the trailer or running them on the road by themselves. When the machines are at the lifting site, the set-up begins, which could take several hours to a few days.
Lifting objects at the job site

When the crane starts lifting, our team of riggers and foremen will help ensure that the safety standards are met and lifting procedures are correct. Different crane capacities will have different operators to handle and operate.
Customer feedback on our lifting performance

After all the lifting is completed, we will do a safety recheck and customer satisfaction feedback review of the project. To always improve our operations and safety level.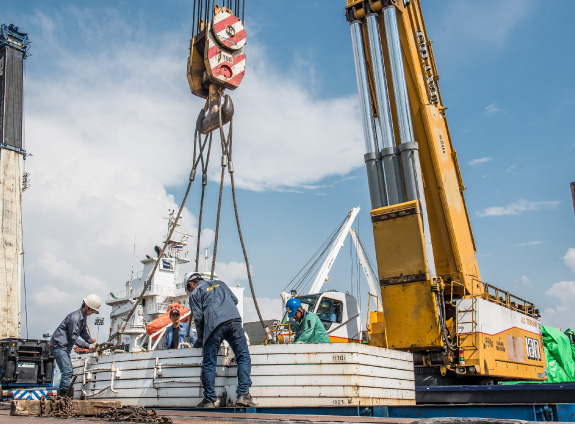 EK CRANE's Passionate Team
Our motivated members with experience from many lifting fields come together to create a great team at our company. It is our mission to create a team of leaders to differentiate ourselves above the industry standard.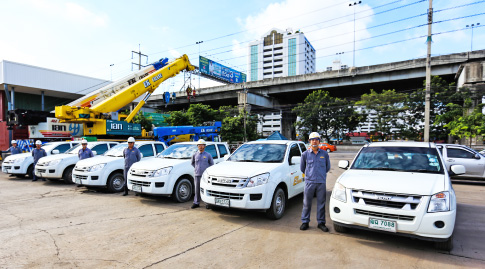 Foremen and Project Managers
Our foremen and project managers are fully trained and have all the required licenses and certificates to operate at the job site. They are highly experienced at handling the most complicated job sites and controlling the riggers to operate at their fullest. 

We have a full team of foremen and project managers ready for deployment to any job sites.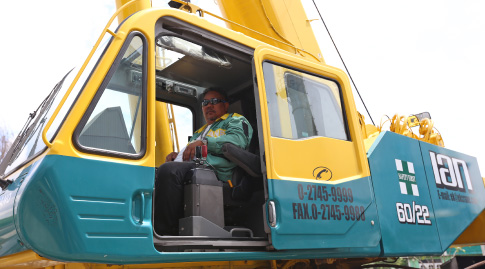 Crane Operators
All our crane operators are highly experienced in the field of heavy lifting. They go through vast training courses and are fully certified to drive and lift all types of mobile cranes. Our team has a huge advantage over our competitors with the experience they have gained over 20 years of work.
Riggers and Engineers 
If the job sites require a few or many riggers, we can help supply them to the job sites around Thailand. Our riggers are equipped with certification and safety training as a standard to work in our team. Hand signalling and stop-work procedures are important for our riggers, so that they can avoid any accidents that could happen.